31 October 2006
Cue Steve LawrenceAndy Williams Singing "It's the Most Wonderful Time of the Year"
29 October 2006
And We Were There
Yesterday, Mack and I attended the
local ACLU chapter
's
Freedom Files Forum on GLBT rights
. They showed an
ACLU video
that describes the hassles that gay and lesbian couples face in being treated the way heterosexual couples married under law are. They had two speakers,
Karen M. Doering,
a lesbian lawyer from St. Pete, and
Bill Schoolman,
a gay advocate from Broward County. Details
here
from the News-Journal.
I think both speakers were effective, although I have to agree that Doering's stressing of the importance to hear the opposition's perspective was very welcome.
I spoke up at a couple of points in the discussion. Apparently, according to some there, I come across as angry when I make public comments. I guess I need to reflect on that.
According to Ms. Doering, there are 1100 federal and 400 state and local legal implications that come with marriage. One can contract for about 10 of those (and Mack and I have done those: drawing up wills, powers of attorney and health-care directives, etc.).
For example, when Mack was in school and I was working, we paid several thousand dollars more annually in federal income taxes than a corresponding married couple would've paid. When one of us passes away, the other won't be able to get survivor's Social Security benefits. When the home we own in both our names passes in that situation to the other, the other will be liable for the value transfered. Compare each to what happens automatically for heterosexual couples whose intimate partnerships are recognized by law, even when that partnership was cemented by clergy. Whose initmate partnerships are recognized regardless of locale in the USA, even worldwide.
Angry? Me?
Alan Turing Memorial Jack o'Lantern
Below, from
Meryl in a Barrel
, via
this post
at
Boing Boing
, is a Jack o'Lantern carved with the image of computer science god
Alan Turing
.
Turing
helped break the Nazi codes generated by their Enigma device and laid foundations for the very ideas of artificial intelligence. He was a gay man who lost his security clearance and endured forced hormone "therapy" because of that, eventually committing suicide, total drama queen style, by eating a poison apple.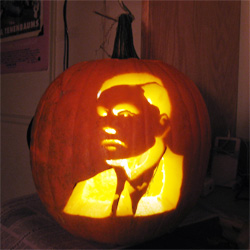 Best. Graffiti. Ever.
Apparently, it's now gone, torn down for some
dam [sic] fool reason
. The image above, preserved on our own dam [sic] fine website for reasons I don't want to remember, may be the last evidence of its existence on the Internets.
Best Recent Move
I quit reading Instapundit several weeks ago for technological reasons. His Pajamas Media ads weren't loading, and thast was wedging the rest of my browser tabs.
As far as I can tell, the quality of my life has done nothing but improve.
Reynolds would like his readers, maybe himself, to believe that deep down he's a Libertarian and open to multiple points of view, but in reality he's just a Republican mouthpiece.
Link? You need a link to Instapundit? No. Read
Achewood
instead. For instance, did you hear about
Lyle's hat trick
?
23 October 2006
Hello, World!
Hello, world! Still alive here. Just checking in.

Carry on. Nothing to see here.

10 October 2006
The Other 30% Don't Want to Admit They Know Someone Gay
Survey: 70% of heterosexual Americans know someone gay. Andy Towle posts about the survey
here
. Direct link to story about the survey
here
.
08 October 2006
Eff You, L.A. Times
From
this article
about Elton John and Bernie Taupin in last Sunday's LA Times:
Loving to be onstage, John, who "wed" his longtime partner, David Furnish, in a civil ceremony in England last year, performs about 130 concerts most years.
The shudder quotes piss me off. Since it is a wedding of two men in a long-term committed relationship, it must be about as serious as one of Elton's show costumes. He loves to be onstage, you know.
More Tetons Pics
More sets from my trip to the Grand Tetons are up on Flickr:
25 September
and
26 September early
. Some more pics from the 26th and some from the 27th still to come.
Here's one from the 25th, some of the SSCI Development Team getting ready to hike up to Hidden Falls:
And here's one from the 26th:
Democratic Candidate for FL 07
I don't watch much television, but I doubt if the ads are flying fast and furious in the Florida 7th race. The Democratic campaign here seems ultra low-key. The candidate is
John Chagnon
, a veteran of the USMC and a former high-school teacher. The incumbent is
John Mica
, currently chair of the Transportation Committee and influential in programs that affect
my university
.
Since this race is so low key and since Mica is what I would think of as a strong incumbent, I doubt the
DCCC
is throwing much at it; however, we need to think of what ifs. If we, the Democrats, win control of the House, Mica is no longer chair, but merely ranking Republican on the Transportation Committee. And if the anti-GOP tide is stronger than some would imagine -- and it could be since more and more people are fed up with hypocritical shennanigans that talk moralistically but behave wrongly, both regarding protecting House Pages from predatory Republican congressmen and protecting our dollars from predatory Republican contractors -- then there may not be a Congressman Mica next session.
It would help if the DCCC would throw some money and guidance to Chagnon.
The Blue Dahlia
Not the Raymond Chandler written
movie from 1946
with Alan Ladd, Veronica Lake, William Bendix, and Hugh Beaumont -- but no "
Jerry Mathers as 'The Beaver'
" (image from 1998 or so) -- but the
restaurant
in nearby downtown Sanford, Florida.
It's a funky place: The interior is a long narrow space, with about half the room taken up by the bar and with fewer than 10 tables. Outside seating is in a breezeway between its building and the neighboring one. We had reservations for an outside table: we didn't know there would be live music out there. We also didn't know it would pour down rain while we were there. We were about equally distant from both ends of the breezeway, and got mist from the downpour at times. There was a tiny creek running down the middle of the breezeway, and we were about the only folks who didn't have to move.
The band -- they never said their name -- was mixed: Country and blues. The singer / acoustic-rhythm player had a good Waylon Jennings voice, and the drummer was rock solid, but the electric lead guitarist and the bassist were tentative, constantly looking at charts or lists of chord changes or something. The lead guy had good tone and an interesting style, but just didn't seem to know the songs they were playing. The harp player was just drunk.
The food was good:. We had the White Bean Smash -- warm, mushed up, cannelinis with "essence of oxtail" (yeah, right) and sesame oil -- for an appetizer. There wasn't much evidence of oxtail or of sesame oil, but it was still good. Mack had the Caesar Salad, and I had Field Greens. Both were good. For the entree, Mack had the Portabella Cheese Melt of the veggie menu, and I had the Red Snapper "Sandwich" off the dinner menu. Mine was a little cool, and the cornbread was too dry, but the seasoning on the snapper was great. Mack said his was great.
They had what seemed to be a good-sized wine list, not that I know my way around there. I drank crispy
Stellas
, but they ran out of cold ones, so they brought me a
La Fin du Monde
: "It's a foreign beer, from Canada." Talk about funky: Unlike the light Belgian skunkiness of the Stella Atrois, this beer featured full-on spiciness. Interesting. Too interesting.
Don't now if I'll have another
Fin
, but I figure we'll go back to the restaurant. It was a neat space, the food was good, the service wasn't bad (and around here, that's quite a compliment); we had a good time.
Pretty Food
Jeff Wilson (no relation), of
Tricycle
magazine, posts
here
about Shojin Ryori cuisine, of which I know no more than what I read in his post.
Looks good.
01 October 2006
Blair's Memo
DLC president Bruce Reed,
here
in
Slate
, on Tony Blair's recent charge to the UK Labor Party on its future:
But the real value of Blair's speech is his candid advice on how to win, how to lead, how to think, and how to earn the right to govern. Blair made plain that he was delivering a political memo. "It's up to you," he told his party. "You take my advice. You don't take it. Your choice."

It's a first-rate memo and shows why, for all his recent woes, Tony Blair produced the longest-serving, most successful Labour government in history. The memo makes four main points that any party forgets at its peril.

First, winning is better than losing, so long as it's winning with a purpose. Blair says New Labour got back in the game the moment "we abandoned the ridiculous, self-imposed dilemma between principle and power." These days, some Democrats spend half their time equating winning with unprincipled expediency, and the other half whining about losing. Thanks to Karl Rove, Republicans know how to say or do anything to win, and find themselves wondering whatever happened to their party's principles. It's time to remember that Henry Clay was wrong—the whole point is figuring out how to be right and be president.

Second, make change a tradition. By their very nature, political parties are creatures of nostalgia and habit. But Blair points out that a party cannot stay true to its oldest principles if it is afraid to modernize its policies: "Values unrelated to modern reality are not just electorally hopeless, the values themselves become devalued. They have no purchase on the real world." Blair says he has always loved the Labour Party, but adds: "There's only one tradition I hated: losing."

Third, don't forget to think and believe at the same time. Blair reminds us that the true measure of political courage is not what a party can promise, but what it can deliver:

"The true believer believes in social justice, in solidarity, in help for those not able to help themselves. … But they also know that these values, gentle and compassionate as they are, have to be applied in a harsh, uncompromising world and what makes the difference is not belief alone, but the raw courage to make it happen."

Finally, and perhaps most important, relish the hard choices that come with responsibility, not run from them. Under Bush, Republicans have become far too comfortable in ignoring the country's problems, and Democrats sometimes too comfortable in opposition. As Blair says,

"The danger for us today is not reversion to the politics of the 1980s. It is retreat to the sidelines. To the comfort zone. It is unconsciously to lose the psychology of a governing Party. As I said in 1994, courage is our friend. Caution, our enemy. A governing Party has confidence, self-belief. It sees the tough decision and thinks it should be taking it. Reaches for responsibility first. Serves by leading."

As new threats to our national and economic security emerged over the past six years, we could have used a governing Party here in America.
Repeating Reed: "[H]ow to win, how to lead, how to think, and how to earn the right to govern." The last time we saw those was in the Clinton administration. Here's to seeing them again directly.